Photographs : Marco Zorzanello
Texts : Hervé Barmasse, Paolo Galli, Jacopo Gabrieli, Lorenzo Perrone, Marco Zorzanello
Design : Kakkalakki
184 pages
24 x 32 cm
Hardcover
85 colour pictures
French/english
ISBN : 978-2-492696-14-5
Released October 2023
€55 – €250
With the support of Région Sud, Provence-Alpes-Côte d'Azur and Polycopies & Co.

The recent years were the hottest ever recorded and more and more meteorological cataclysms show how climate change is no longer a future hypothesis, but a present phenomenon. The transition from one habitat to another is forcing the whole society to adapt itself, to migrate or to resist, causing artificial mutations for the environment.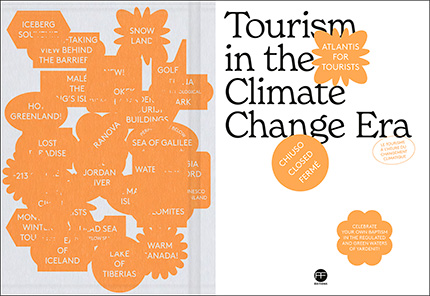 This project aims to explore how the tourism industry is reacting to the effects of global warming, i.e. the decline of snowfall, desertification, polar ice melt, and rising sea levels. Between 2015 and 2021, this concept gave rise to four separate projects around the world, which are collected here in the following books: Snow Land – situated in the Italian Dolomite Alps; Water Tour – a research conducted in Palestine and Israel; Iceberg Souvenir – spanning Canada, Greenland, and Iceland; and finally, Lost Paradise, set in the Republic of Maldives.
a limited edition of 30 copies
Order your book numbered and signed by Marco Zorzanello + a signed 15 x 17,5 cm print Fine Art Photo Pigment Print on Hanemühle – €120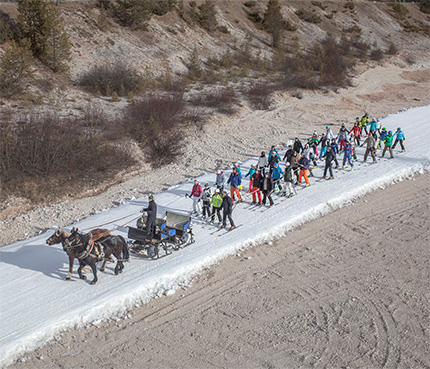 3 special editions in 6 copies
Order your book signed by the author + a 20 x 23 cm print, numbered from 1 to 6 and signed. Fine Art Photo Pigment Print on Hanemühle – 250 €
PICTURE #1 Add to cart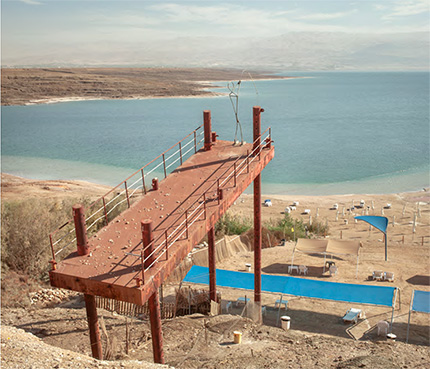 PICTURE #3 Add to cart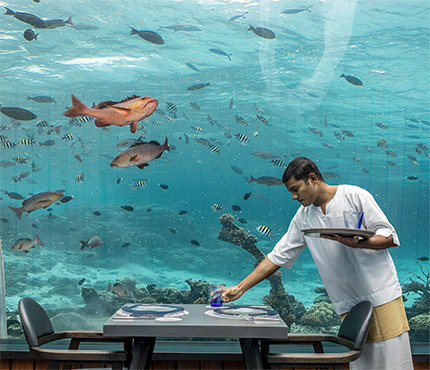 PICTURE #4 Add to cart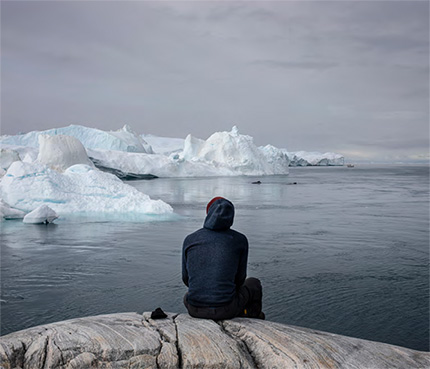 tourism in the climate change era: the book!
Water tour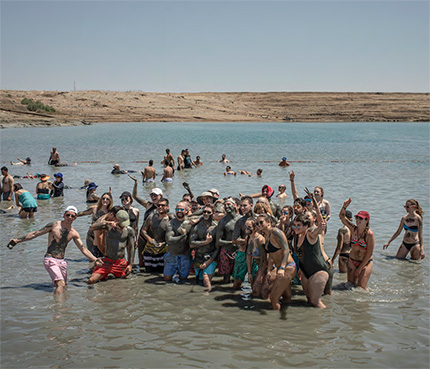 The water levels of the Dead Sea and the Sea of Galilee have permanently dropped below the critical red guard line, and the Jordan River has dwindled to a mere trickle of muddy water. The ongoing desertification process is being exacerbated, aggravating the already chronic water crisis in the region.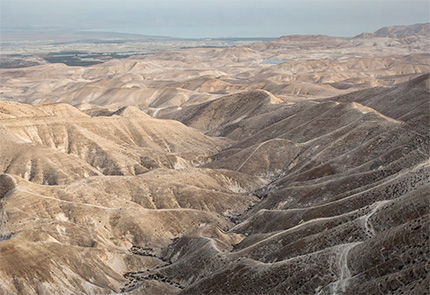 But these places are experiencing an increase in tourist arrivals and, in order to capitalize on this opportunity, hotels have established mobile bathing facilities that follow step by step the decline of the Dead Sea level. Paradoxically, this tourism industry also shows its contradictions in the place without water par excellence: the Negev desert, where luxury hotels and swimming pools guarantee a thrilling Water Tour, at any price.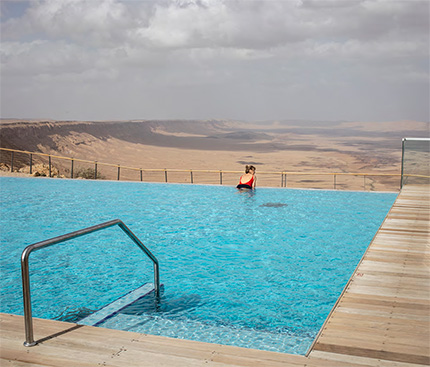 Snow land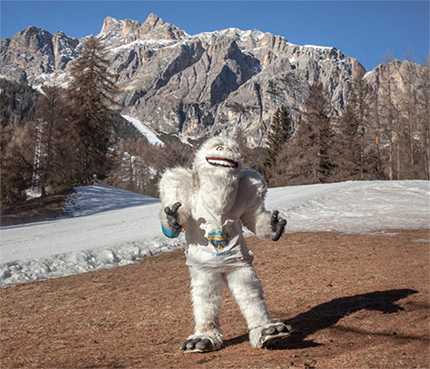 In the Dolomites, millions of visitors have become accustomed to skiing on 1200 km of artificial slopes. We are witnessing a shift of the winter season, with a clear shortening of the period when natural snow can be enjoyed.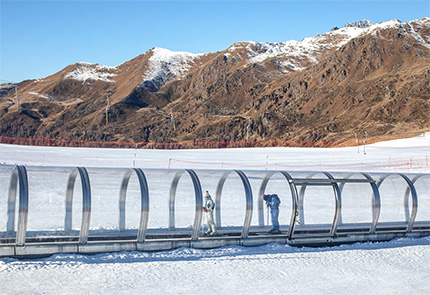 In order to prevent a cultural and economic collapse of the local community, public and private actors have reacted by artificially rebuilding "winter". From November to March the Dolomites change their aspect, turning their breathtaking views into the ideal background for a huge park of artificial snow. A Snow-Land.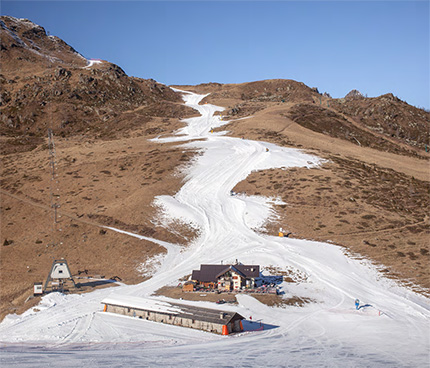 Lost paradise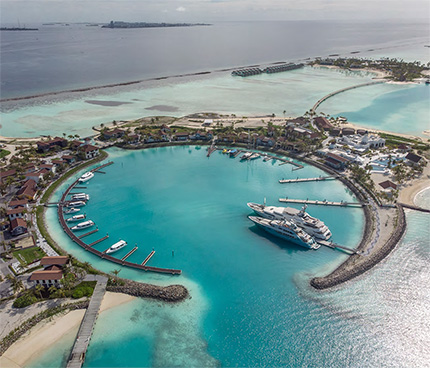 The ocean's steadily increasing temperatures are causing the bleaching of one of the world's most magnificent natural engineering marvel: the Maldivian coral reefs. This incredible natural barrier is now threatened by the impact of global warming, and in addition, mass tourism, the seabed dragging to create artificial islands, and floating waste accumulation are worsening this much-hidden disaster.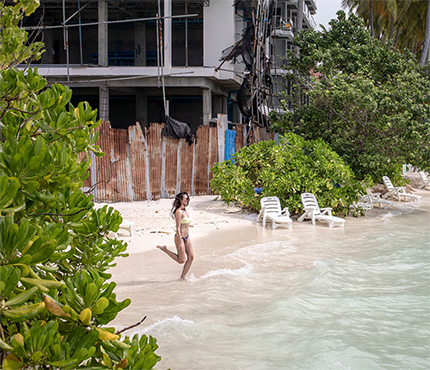 As a result, Maldives are gradually succumbing to sea erosion. But if the sea level is rising, so does underwater urbanization. In a short-sighted attempt to attract more visitors, luxury companies are transforming some atolls into a kind of Atlantis for tourists.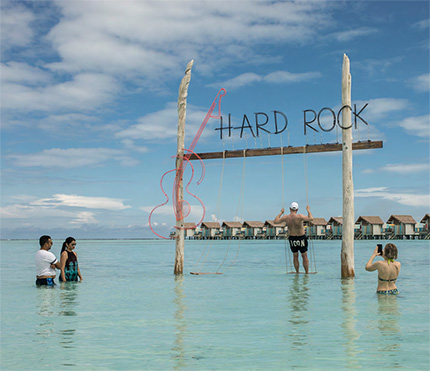 To safeguard what is left, sea walls have been built, and tourists can enjoy the breathtaking view of this Lost Paradise behind unforgettable solid concrete barriers.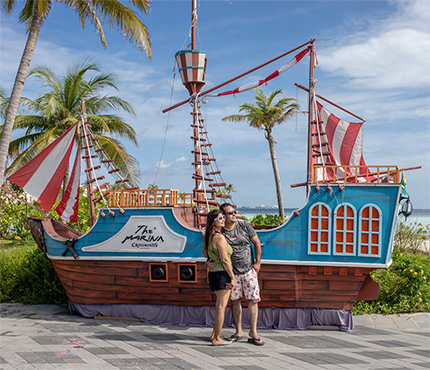 Iceberg souvenir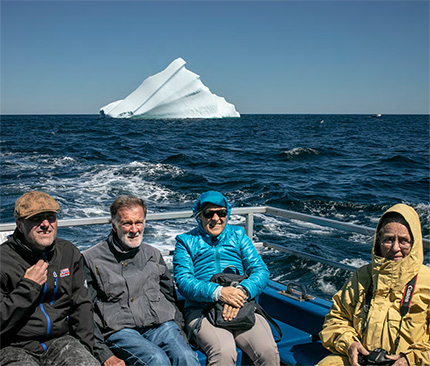 The ice of the Arctic Circle is receding, as Canada, Iceland, and Greenland are facing warmer temperatures. The ecosystem is inexorably transforming, resulting in the fragmentation of larger and more numerous icebergs.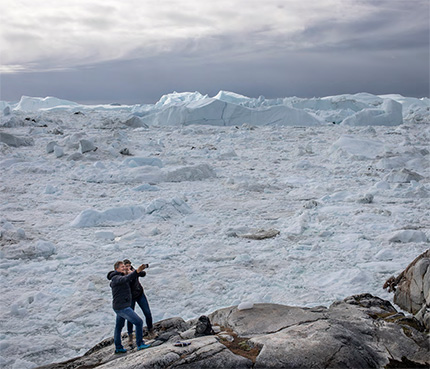 In this apocalyptic scenario, we see tourists attempting to grab a piece of melted iceberg from the North Pole with one hand while holding a selfie stick with the other, eager to capture the moment.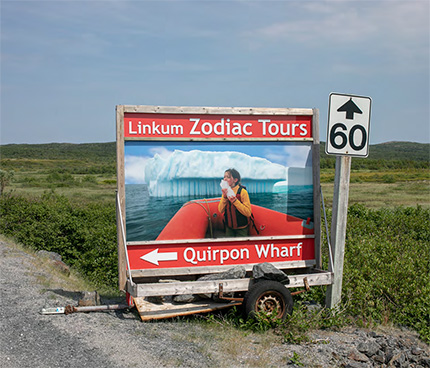 From Greenland, to Canada, via Iceland, the 'true North' is being marketed, with all-inclusive travel packages advertising for the experience of climate change, including an Iceberg Souvenir for just 5 dollars.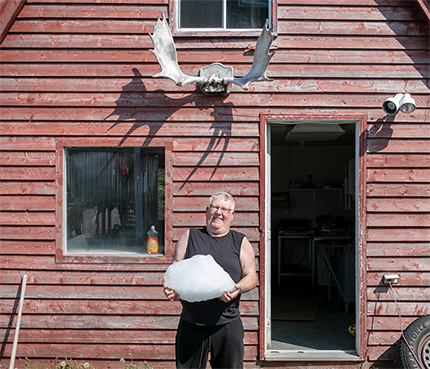 While tourism may be considered by some as a peripheral sector, it actually contributes significantly to the global economy, accounting for 10% of the global GDP. Holidays continue to be a status symbol for the middle class around the world, and in the near future, holidays of our dreams may not be the same. With an ironic perspective, this project seeks to analyse a theme of global importance: the effects of climate change on our lifestyle.